Sail Caledonia Organisation
Sail Caledonia is organised and run by the Great Glen Boating Club. The membership fee is £5 and membership is open to all. Its benefits include a 10% discount on all over the counter or telephone sales with Caley Marine in Inverness and a newsletter.
For skippers of boats participating in Sail Caledonia, annual membership is included in the boat's entry fee.
Martin Balcombe – Chairman & Safety Officer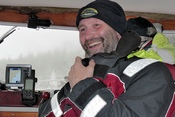 Martin is owner of Fingal of Caledonia, a 128' motor barge which has, since 1996, been running cruises with outdoor activities in the Great Glen. In 2013 he added a second barge, Ros Crana, to his "fleet".
He was involved in all 3 Great Glen Raids and has been on the management team of all Sail Caledonia events since the first one in 2003. He has lost count of how many times he might have been through the Great Glen by barge, sailboat & canoe. Martin's experience includes: Head of Sailing for Outward Bound Scotland, including directing 'Viking Wayfarer' expeditions of 28' open cutters (14 days west coast sailing with wild camping ashore!); skipper of Lorne Leader, an 80' gaff ketch on holiday charter in the Hebrides and Manager of The Manor House activity holiday centre near Padstow, Cornwall.
His RYA qualifications include Yachtmaster Instructor, Dinghy Senior Instructor, Powerboat Instructor, Sea Survival Instructor and VHF radio Instructor. He holds other outdoor qualifications from the Scottish Canoe Association and Scottish Mountain Leader Training Board. He is the author of The Outward Bound Sailing Handbook. Martin has played in and around boats since a tender age and owns Spylgarn, a 16' ketch. She now works for a living on Fingal but started life firing Martin's passion for open boat cruising by sail & oar in Cornwall and around the Hebrides.
John Macpherson – Vice Chairman & Race Officer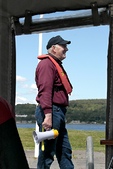 John was involved in the 2002 Great Glen Raid and his motor cruiser 'Lochnagar' has become a familiar sight as the committee boat for all of the Sail Caledonia events. He describes his most embarrassing moment as being towed away from Foyers in 2005 but no Sail Caledonia would be complete without him bouncing around in 'Lochnagar' on at least one windy finish line! Lochnagar comes equipped with new engine and onboard computer for printing out those all important race results. John also takes many event photos and his excellent albums can be found via links on the Galleries page.
Norna Hall – Secretary & Data Protection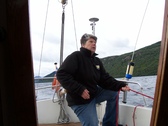 Norna started sailing in one of the first ever Mirror dinghies Since then she has had many years of just "messing about" in boats big and small. She joined Sail Caledonia in 2007 as press-gang and enjoyed it so much that she can't keep away. As press-gang she has sailed with a number of very patient and forgiving skippers in some fantastic boats. Her most embarrassing moment was capsizing her wee traditional Cornish Cove Boat in front of several thousand spectators at the Portsoy Festival.
Mike Tatham -Treasurer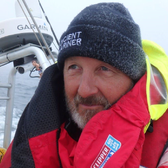 Mike has been involved with the sea since leaving school, making his living in the merchant navy and the oil industry, but only started sailing in 2009 when his friend built him a boat. He came on his first raid in 2011 and, despite capsizing twice (once without any sails up!) was hooked to such an extent that it rapidly became an all consuming passion. In 2015 he did the Clipper Round the World yacht race https://www.clipperroundtheworld.com on the Great Britain yacht which attained a podium finish coming in third overall. He also does volunteer sailing for the Helen MacArthur Cancer Trust https://www.ellenmacarthurcancertrust.org taking young people sailing after recovering from cancer.
"Swampy" Dave Roberts and Ishbel Eunson - Logistics
Ishbel is currently working in Police HQ Inverness. She has regularly competed in Sail Caledonia since 2005. She is crew with her Dad on the lovely Auk and has won the Highlander Trophy more times than is healthy.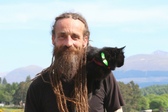 It wouldn't be Sail Caledonia without "Swampy" Dave at the helm of Ros Crana. Few folks are aware of all the work that he does quietly in the background, smoothing the way for the fleet as it makes its way down the canal. He is an independent skipper on the canal and when not on the barge he can be found taking tourists down the loch at stupid speeds in a fast rib, or at a more sedate pace on the Royal Scot. When the winter comes you will find him praying for snow as a member of the ski patrol at Nevis Range.